Teams, at the heart of organisational effectiveness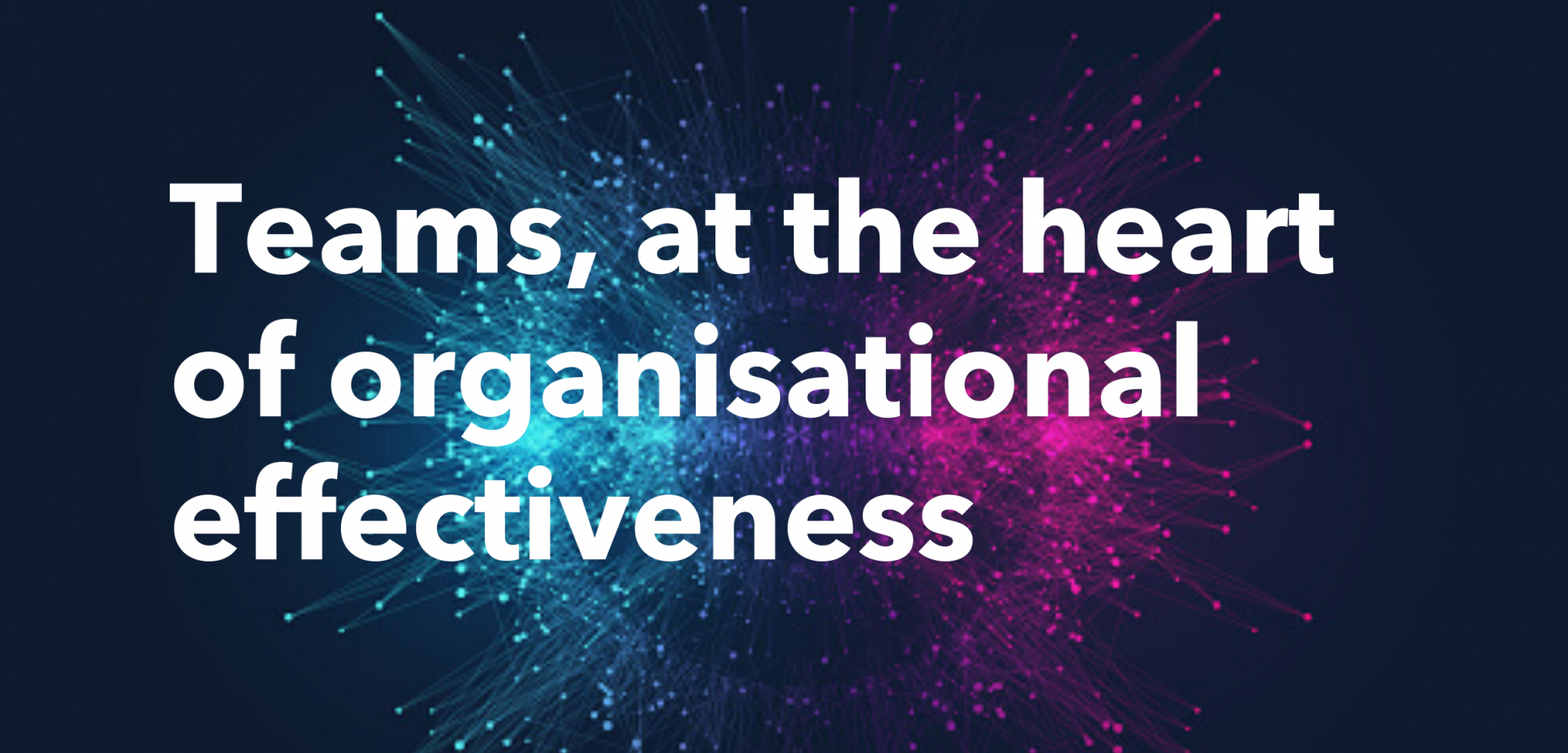 Nothing complex or subtle can happen in an organisation without teamwork.
In organisations, there is (and always has been) a huge amount of emphasis on leaders – and their individual leadership energy and dynamic. But in so many ways, it is teams that are the centre of organisational effectiveness. The team is the connected micro-ecosystem, so dependent on trust and shared purpose, that dictates the successful working of the community at large. Especially in times of change and crisis, invariably it is teams who provide the organisational reflex that helps businesses to react and progress with strength.
Often when we partner with clients, we do so to look at the effectiveness of key teams, like a board or senior management, or a team leading a currently crucial function or market. In the first instance we diagnose and connect, and ensure that critical teams get really clear and aligned on their purpose, identify the collective results they want to create and then understand how they need to work together to achieve them. This sets up the team to make high-quality decisions and enables decisive action which serves the wider purpose of the business.
Another lens on purpose is to look at its 'commission'. All teams exist within a larger business ecosystem and, to be of service and impactful, they need to understand what the external context – their stakeholders and wider environment – need from them. They need to be clear what their commission is and then organise themselves in such a way to achieve these results efficiently and effectively, and in accordance with the values and purpose of the wider organisation. This is important for well-established teams, but even more so for ad hoc or tactical teams brought together for what might be a short-term initiative. Often, in the latter case, individuals come together as a team and their objectives can appear less obviously integrated. These teams then need to identify the common ground they share, to get real and honest about the differences that exist, and work in a highly relational way to enable them to create real synergies that will catalyse and foster collaboration.
For all teams to successfully operate, along with a clear purpose and strong connection, invariably attention needs to be paid to other team effectiveness factors like direction setting, capabilities, work methods, contracting and reviewing, and management of the permeable boundaries they have with other teams.
Purpose-setting, contracting and reviewing can be seen as necessary factors (of course we need them!). However, once that is established, where a team really hits its stride and begins to purposefully pull to a shared goal is when the team culture allows for ever deepening trust. A team culture which purposefully works and enables trust, creates psychological safety, shows vulnerability, lets the team tackle tricky and sticky issues in manageable ways, and ultimately utilises the fullness of its talents and passions towards shared goals. It develops the ability to 'learn faster than things change around them'.
The teams that do work effectively have greater leadership energy and ambition. Their staff, clients, and key stakeholders (who rely on the organisation and team's success) have greater trust and engagement. This makes innovation, agility and growth of people and talent eminently more achievable.
All of this requires dedicated space and time to have real, honest conversations about what the team is 'for', how it is currently performing, and what it needs to capitalise on, and what it needs to do to improve.
And this is just not for our clients. It's the mirror we hold up in our own teams and it's what helps us become more aware and more capable of developing our effectiveness over time.
If you're interested in the subject of teamwork and team coaching, here are two more articles to read:
Your senior team's collective imperative
Creating a high-performance team with and beyond the senior team