Psychological Safety Blanket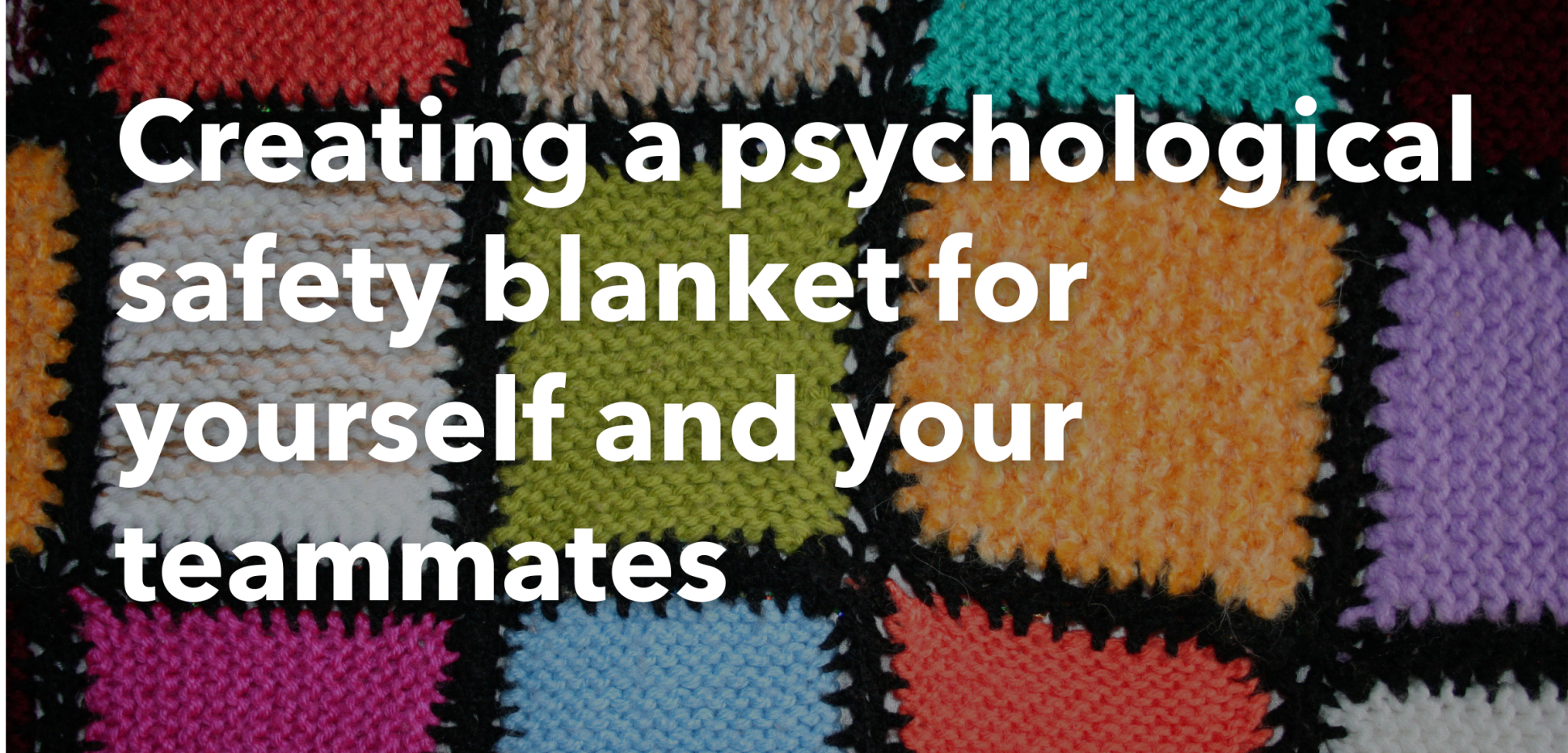 In this article, Aoife Keane looks at why and how an individual can create their own psychological safety blanket for themselves and the team they are a part of. No knitting skills required!
There's no doubt that psychological safety has emerged as an important consideration for leaders and teams – supporting the health, well-being and fulfillment of organisations and the individuals within them. The pandemic has made sure of that. Yet is there too much emphasis on the leader to create and maintain a team climate where psychological safety is created and nourished? Is it fair, or indeed socially responsible, to land sole responsibility at their door? What is the responsibility of the team itself?
In diagnostic conversations with organisations, and in many coaching and development engagements with leaders across the globe, I consistently hear stories of how psychologically unsafe people feel at the hands of a boss or peer. In the vast majority of instances, colleagues aren't being intentionally abusive (although, rarely, some are); rather they're often unconsciously inhibiting the person's capacity to express their true self, needs and ideas. This is normally accepted as part of the reality and the conversation can often lead to ensuring personal damage limitation; whereas the real focus should be on recognising and seeking to improve an unhealthy work situation.
This made me curious about how individuals can find their own psychological safety but also support team members in co-creating a team climate that feels supportive, truly collaborative and enriching. In many ways, it's like knitting a psychological safety blanket for yourself, getting all snug and secure, and then extending that to colleagues.
Moving beyond leaders, to teams
For leaders of teams, the guidance is pretty clear on how to go about creating a climate of psychological safety – being curious, listening well, encouraging participation, promoting inclusion and appreciating difference.
But what can we do as team members if others on the team, or indeed, the team leader themselves, aren't playing ball? How do we manage the inevitable fear (the instinctive fight or flight response), self-censoring and reluctance to take personal risk that results within ourselves? And how can we take steps to make it feel safer for others?
Reassuringly, there is plenty we can do – and it all boils down to taking individual responsibility for the good of the team, and drawing on our emotional intelligence muscle to cultivate empathy and appreciation for our teammates.
Dr Amy Edmondson, Novartis Professor of Leadership and Management at Harvard Business School, and eminent researcher on the topic of teaming and organizational learning, is clear that psychological safety is about all of us, not just the head of the team. It impacts all of our relationships, both at work and at home. Many of us are members of multiple teams – project teams, management teams, leadership teams, client teams – and even if we are not the leaders of these teams, we all have the potential to play a leadership role in pursuit of a more effective and collaborative teaming experience for all. So, what can we do at a practical level?
Knitting the psychological safety blanket for individuals and teams
My musings and reading on the topic have yielded a few top tips, which I've broken up into two categories – what you can do to knit your own psychological safety blanket and how you can add a square to the team's: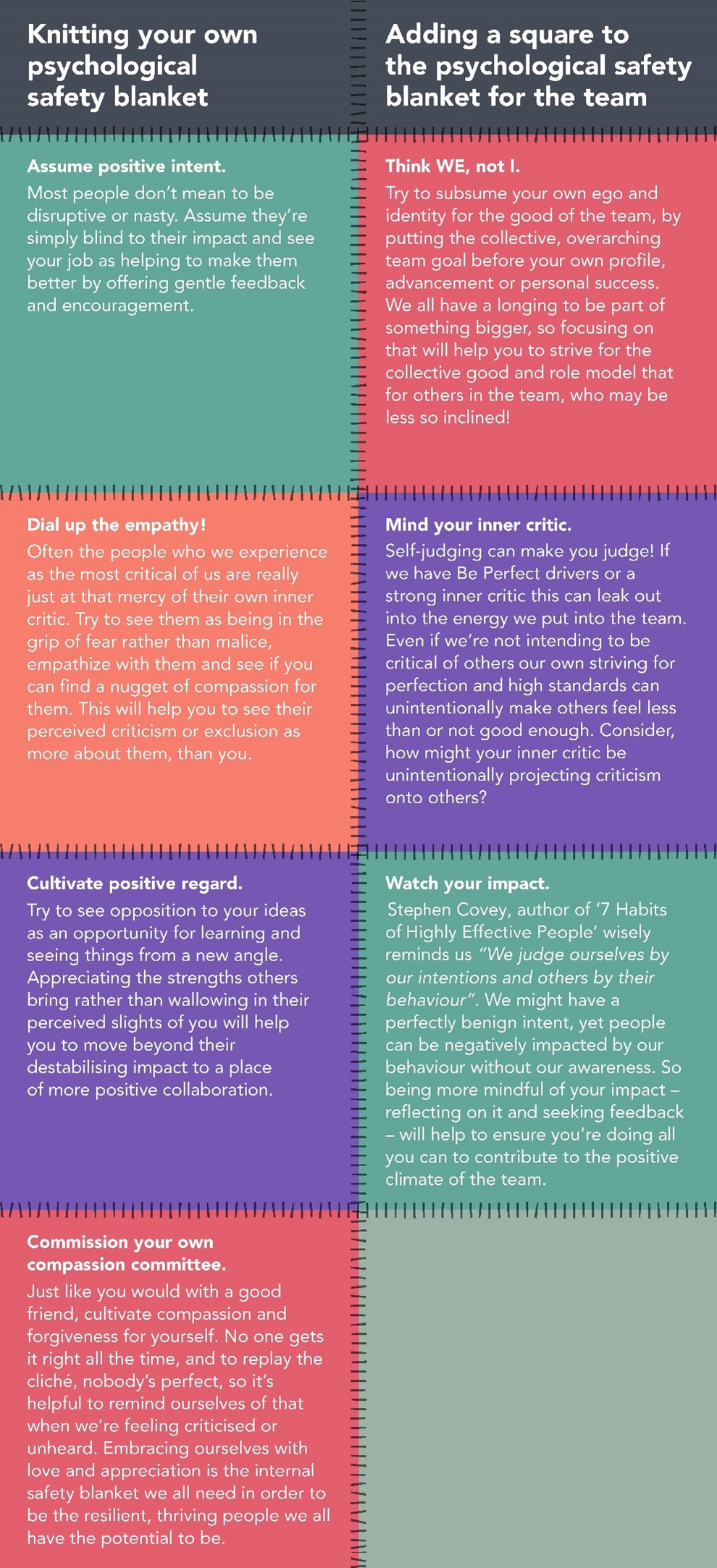 The key message in all of this is the importance of cultivating self-awareness and individual responsibility. As my colleague, Deborah Gray, reminds us in her blog on 'Our Psychological Contract', we could all do with recognising and developing our own sense of agency because "most people have far more internal resources than they give themselves credit for". We could all do with recognising those "innate capabilities for coping so [we] can feel more resourceful", especially in these most challenging of times.
This is a key plank of our work at Sheppard Moscow – whether that's helping individual leaders to deeply understand their Emotional Intelligence or working with whole cohorts of leaders to hone their resilience - our aspiration is help people, teams and whole organisations to be even better, and importantly, more human.
If you enjoyed reading this article, here are a couple of related articles that might be of interest:
As ever, feel free to get in touch with the author of this piece personally –aoifekeane@sheppardmoscow.com