Powerful teamwork in tumultuous times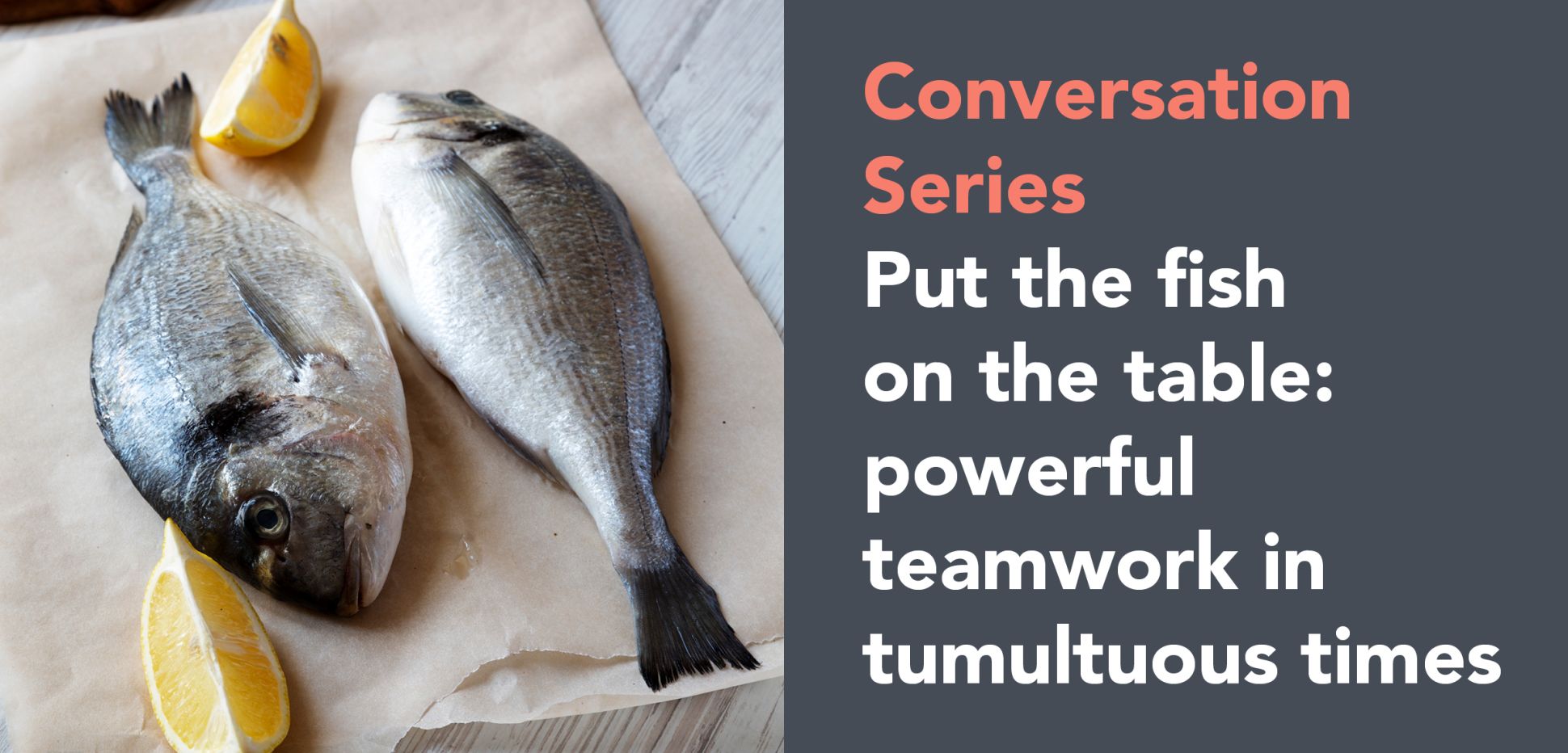 'Putting the fish on the table' is a metaphor for facing into and the dealing with the most critical issues first. It arose in our latest Conversation Series Event with a client group of HR and business leaders from various industries. Participants stressed that, post-pandemic, leadership teams need to be even more focused on facing into new realities, be intentional, regain their own sense of agency, treat time in the office with a sense of purpose, and learn faster than things are changing around them.
The conversation was entitled 'Teamwork on shifting sands', not only a perennial topic, but an issue that offers a multitude of challenges and opportunities in our current complex environments. Participants in the discussion were clear that in their businesses change has marched on – quite apart from the pandemic – with new joiners to teams, new strategies, M&A, and volatile market and economic environments. At the same time, two years of working-from home has equipped us with new capabilities, competencies, and mindsets as we face into these new complexities.
A conversation about the precious power of teamwork in tumultuous times
We recently held our latest Conversation Series event for a group of HR and business leaders from various industries, to talk about the precious power of teamwork in tumultuous times. We convened initially in a large group to hear the reflections of Rachael Sinclair, Managing Director, Homes and Dreams, Nationwide Building Society, the prominent UK financial institution and the world's largest building society, who shared her experiences of navigating the challenges of developing a previously disparate team in a new matrix structure in the context of the pandemic and a stretching organisational strategy. Primed with some rich insights, we then moved into smaller breakout groups where we had space to chew over what she shared and to share our own experience and learning.
Here are some of the key themes that emerged:
Teams have become more adept at responding to change
Things didn't stand still in organisational life just because we were amid a pandemic; if anything, change continued apace – new business strategies were launched, workforce reconfigurations took place and businesses were acquired and divested. And many of us worked more intensively, and more agilely, than ever before. In many ways, the pivot most organisations needed to make to a virtual working-from-home model equipped us with new capabilities, competencies, and mindsets as we face into these changes and the inevitable uncertainties they throw up. For example, Rachael discussed that, for some, the virtual modality helped people feel more confident in speaking up and many found it easier to find their voice.
In the subsequent conversation, participants observed how virtual working has required us to pay more attention to many pre-existing issues: such as how to team up with other teams in an ad hoc way in service of a particular task or goal, how to navigate the complexities of the matrix and create the team of teams, and how to ensure a sense of inclusion and psychological safety.
Purpose = priceless!
Some of Rachael's early learnings around forming a team in the context of significant organisational change and a global pandemic, was that she needed to get super clear on the team's purpose and help each team member to get aligned around what the team was here for, and why each of them were in their roles. An 'enterprise mindset' was encouraged – a focus on what the team was contributing to the wider organisational mission – whilst making it ok for those who weren't motivated by that to step away. Having this spirit of shared endeavor inculcated in the team, enabled everyone to be clear on their priorities, as a team and individually, and to step into important decisions with clarity and conviction, rather than defaulting to escalating up the line.
Trust, empowerment and psychological safety are the must-have ingredients for effective, agile teams
When Rachael stepped into her new role, she was trying to do something different in terms of how the team worked together, and it was important to create psychological safety and a safe-to-fail mindset as part of that. People needed to feel able to give feedback and, indeed, to make mistakes and learn from them. The focus turned to nurturing an experimental mindset in the team and this was done by habitually capturing learnings as a team rather than jumping in to fix things. A 'good enough' approach was adopted rather than pursuing perfect answers, to bolster agility and more speedy decision-making. Consequently, there was an increase in 'speak-upability' and a willingness to 'get the fish on the table' (in other words, get all the issues out there) and that this had a circular reinforcing benefit of driving a sense of openness and safety in the team.
Yet it was quickly acknowledged that a leader can't assume that psychological safety and trust are there from the outset – you have to work at it, day by day – and you need to be aware of, and attentive to, the different generational, gender and cultural needs and expectations that exist within diverse teams.
The office is becoming a space for collaboration, creativity and connection
Office time is valuable, but only if we use it purposefully for human connection and creativity. Presenteeism and the dream of a full-time return to the office gives false comfort that present day challenges of teamwork – such as clarity of purpose and direction, cultivating relationships - might magically go away if only we were copresent again. They are not going away, and in fact, they require even more attention and care than ever before, especially given the emerging trend of younger new joiners and people being less likely to stay for the long haul.
Many organisations recognise this retention challenge, and in response are reimagining the purpose of the office – it's becoming more about purposeful collaboration, having fun, bringing a sense of community spirit and reinstating the ad hoc water cooler conversations which drive engagement and a sense of wellbeing. The purpose of the office is now less about co-existing in a shared working space (as it was for many of us before covid), and more about creating emotional engagement, with the organisation, the work and each other. And while in the short term, the price may be a dip in productivity while people are the office, it's a price many organisations are willing to pay in service of the long-term benefit of higher retention and stronger employee engagement.
Creating the conditions for effective teamwork requires a lot of energy!
One key reflection was that it takes significant energy to build a team in this new world. There's little point in returning to the office just to sit at screens talking virtually to people elsewhere in the matrix and elsewhere in the world! Many leaders have had to unlearn old habits and embrace new, previously unimaginable, ways of working and leading their teams. Many have done so bolstered by the realisation that they can't assume the status quo will unlock agility and devolved decision-making they are striving for – you simply have to do things differently if you want a different outcome.
For some leaders, this has been about letting go of control and trusting that focusing on outcomes (as opposed to presence / hours worked) will ultimately deliver the goods – putting the emphasis less on what people are doing and more on how they need to come together to deliver on their shared purpose. What was apparent from Rachael's experience was that this requires constant two-way communication – and often you won't like what you hear!
In conclusion – put the fish on the table
As Rachael put it, the job of leadership teams is to create the climate for their people to have the important conversations, to forge connections with one another, speak up when things aren't working, and take responsibility for making the new normal work. In short, put the fish on the table.
In the spirit of our Conversation Series, we are always keen to keep the conversation going. So, we'd love to hear about your challenges and opportunities – and what you've been noticing about teams and teamwork in your organisation.