Happy Anniversary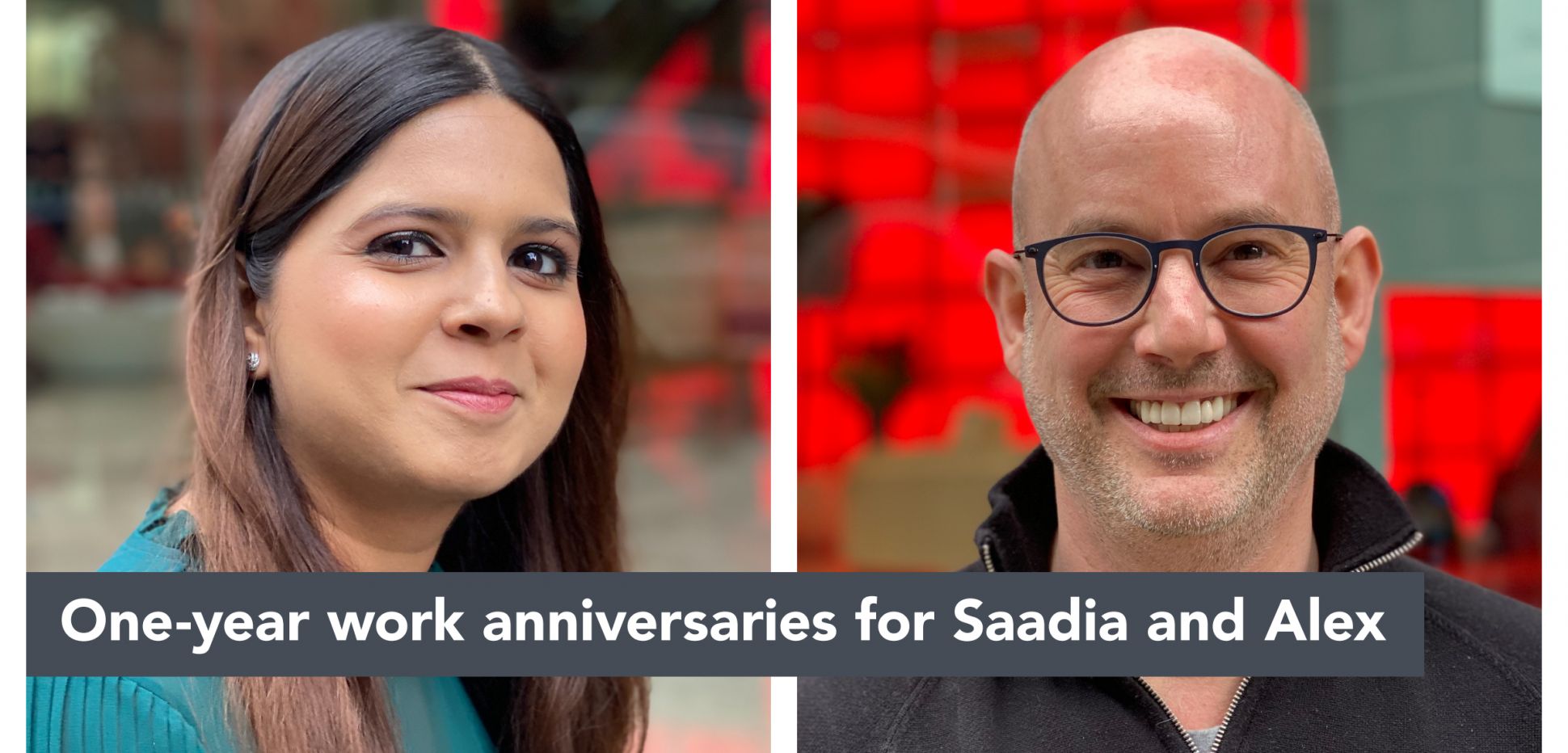 Both Alex and Saadia joined in the early part of 2020, happy enough to be meeting each other, and colleagues in the London office and settling into what it means to them to be part of Sheppard Moscow, and "getting feet under the desk". Then, pandemic.
In celebrating their first year with us, we reflected, jokingly and seriously, that in most circumstances they have not physically met any of their fellow colleagues (or clients!) they worked so closely with during 2020. And by all accounts Alex and Saadia not only "made it through" the year, they were brilliantly successful. They both worked on a multi-phased, multi-cohort blending learning program, and thrived in their roles, working across the organization. And for Alex, even capping his one-year anniversary with solidifying client work that he is thrilled to work on because he enjoys the client and has great interest in what they do.
So, we were curious, what is it like joining during a pandemic, and what was key to landing in and being successful? What was a particular highlight of last year?
Though they started just a nose ahead of Covid, that wasn't the start. Alex indicated, for him, it had been a long lead into him finding his place, meeting people, many conversations – and because of that he was super excited and up for it, and ready to find his place. He notes the pandemic certainly accelerated his landing into Sheppard Moscow, and while was not what had been anticipated (multi-international trips) however, it was the connections made … and connecting as one org that were the ultimate keys to a smooth landing. Busting the myth that real connections can't be made virtually is what Saadia reflected on, "key was being able to create relationships that were not transactional".
Care and support by the organization were key supporting factors of 2020. Discoveries made were real connections could be made virtually, and via the feedback and response from clients a real impact could be made with the work they were doing. A hindsight benefit of starting during a pandemic they were able to express great empathy for the clients they were working alongside, who were dealing with the same issue, whether they were isolating in their home country away from office, or were new managers having never met their team, nor visited the country their work program was in, Alex and Saadia could both recognize and understand.
Knowing that you need to make space, time and prioritizing the creation of relationships and bring together as one amongst the unknown were factors that enabled them.