London Event - November 2018, "Trust - It Is Not What You Think It Is!"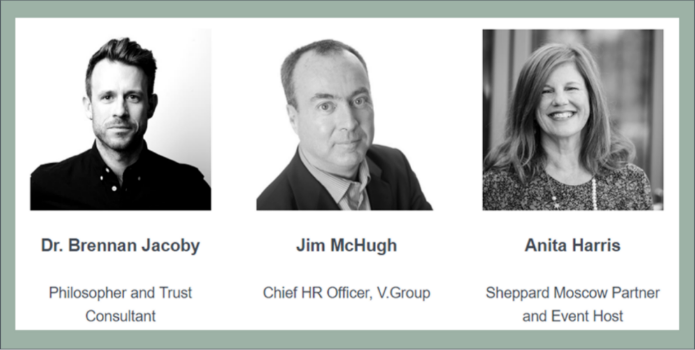 After the 2008 Financial Crisis, Trust became a big deal. But this was all about Integrity and Compliance. In reality, and for those leading organisations, it's really about ensuring there is heart in your human system. On November 20, Sheppard Moscow is hosting an evening seminar to uncover the fundamental role of Trust in Organisational Effectiveness.
Trust isn't just the stuff of newspaper headlines and corporate scandals. In Organisations it can be expressed through behaviour, and that expression can make a major and practical difference to those businesses. Empathy. Care. Respect. Positive Intent. Tough Love. It may not make newspaper headlines, but it can make a difference – more collaborative working, higher innovation and creativity, clearer goals, more honest conversations about the things that matter to make your organisation more effective and ultimately successful. We've been working in this field for 50 years…and on this evening we're delighted to be joined by Dr. Brennan Jacoby and Jim McHugh who'll share their perspectives, insights, experiences and in Brennan's case, significant research, on the role of Trust in creating Business Results.
This event is invite only, for inquiry please contact: brendacross@sheppardmoscow.com